County Armagh line dancer crowned world champion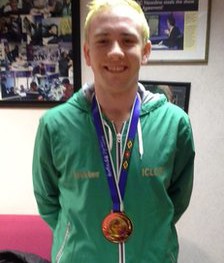 Date Posted: 24th September 2013
County Armagh line dancer crowned world champion
A County Armagh teenager is celebrating after bringing home the gold medal in line dancing at the World Dance Championships in Taiwan. Shane McKeever, from Crossmaglen, took part in the dance equivalent of the Olympics in Kaohsiung in Taiwan last week.
.
The 19-year-old said it was an "amazing experience". "I'll definitely never forget it," he said.
"Going to Taiwan was an experience in itself, dancing in an arena with 5,000 people watching you was an absolutely amazing experience too."
Shane started line dancing when he was three years old. "It was during the big boom when line dancing was really big," he said.
"My uncles and my dad were line dancers back then so mum decided to take me along and I got up and danced so she kept bringing me back every week.
"The teacher thought I was getting somewhere so she decided to enter me in my first world championships when I was six."
Perceptions
The teenager said competing had given him an opportunity to broaden his horizons and his trip to Taiwan enabled him to indulge his love of travelling. Shane said he hoped his win would help raise the profile of the sport and change peoples' perceptions of line dancing. "We've got such a wide range of music and dances, it's so different to what people think line dancing is," he said. While competitors must adhere to some traditions, there is scope for individuality. "We've got our line dance boots and hat which is compulsory to wear but after that anything goes," he said. "The girls have got their diamond studded dress on and the guys have got their diamond studded shirts on. It's got more like Latin ballroom dancing."
Although Shane is taking time out after his win, his thoughts are already on his next challenge. "I'm back to square one so we go back to trying to qualify for the Irish team again because in two years time, we've got the dance Olympics back on in Rio and Brazil," he said.