Carmen Jones is Coming to the Abbey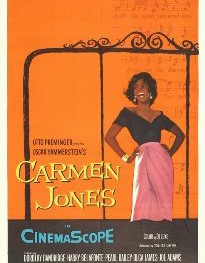 Date Posted: 31st May 2011
Five years on since the unforgettable production of 'Guys and Dolls' the Drama enthusiasts of the Abbey are gearing up for their next production. Slí na Mainistreach looks forward to bringing you behind the scenes snaps from the auditions to the final production, which will be staged in the magnificent Abbey Assembly Hall this Autumn. Head of Drama, Mr J Smyth, announces details of the show…
At last the name of the next school show has been confirmed as 'Carmen Jones'. The musical contains some of the finest music from Bizet's opera Carmen with modernized lyrics-with Love, passion, betrayal and tragedy, Carmen Jones is an adaptation of Bizet's legendary opera, Carmen. It tells the story of a young, free- spirited woman called Carmen Jones whose great beauty is the object of many men's desires.
However, Carmen sets her sights on young army officer, Joe, who is engaged to his sweetheart, Cindy Lou. Joe quickly succumbs to Carmen's charms, forsaking his Cindy Lou, thus beginning the tragic love story. Casting and some elements of production should begin over the coming weeks and everyone involved is excited at the prospect of putting on one of the great musical scores of the last century; indeed it is highly probable that this is the first time the show has been performed in Ireland.