"Buddy" the forthcoming school show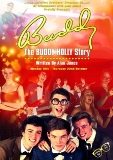 Date Posted: 23rd September 2015
The Music & Drama Departments are proud to present the musical
"Buddy"
Monday 19th to Thursday 22nd of October 7.30pm (doors open 7pm)
It is an exciting and interactive musical that tells the story of one of the most iconic figures of rock 'n' roll from the last century.
The Buddy Holly Story will make you laugh and cry as well as want to get up and dance to songs you will know and love.
The boys, girls and staff are rehearsing each day to make sure this is a show never to be missed or forgotten!
Do not be disappointed, make sure you purchase your tickets early, available now from the school Reception.