Battlefield Britain Star Visits Abbey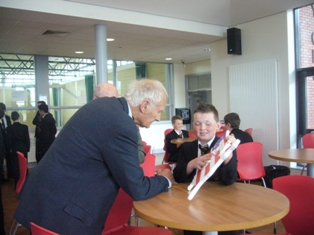 Date Posted: 18th May 2011
The 18th May 2011 will go down as one of my most memorable days in the Abbey. Notable broadcaster, writer and historian Peter Snow was to visit the local area doing research for his new book on General Ross' expedition to America during the War of 1812. Dr Mc Cavitt arranged for Peter Snow to visit the school and give all Year 9 pupils a talk on his past and present work.
The canteen had been turned into a mini Smithsonian with a variety of models of The White House, in various conditions, both before and after the fire, Fort Mc Henry and even Ross's Monument which our guest seemed to enjoy. He then held a captive audience as he spoke first of his years in broadcasting, and then about how his lifelong passion for history had been channeled into his documentaries and books.
Mr Snow described in detail the War of 1812 and told us of how he was fascinated by the diaries and journals which the officers and soldiers had kept which vividly recorded not only the major events but also their day to day lives and thoughts.
The time Mr Snow spent entertaining us with his anecdotes seemed to go too quickly and I felt I could have listened to him all day. While a number of the facts he told us we already knew, his perspective gave me a new understanding of the period and the people involved. I found his enthusiasm for history to be inspirational and I would consider his distinguished career to be my ideal.
By Pádraig Maguire
Slemish 9