Australian Visit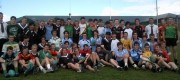 Date Posted: 30th September 2010
Melbourne School Visit Abbey
A group of Australian students departed their homeland on the 15th September to embark on a three week tour of Ireland; to play Gaelic Football. Ivanhoe College Melbourne will play against several schools including Abbey CBS Newry.
The students will experience how the game is played here and also provide our boys with an Aussie Rules coaching clinics.
They will attend a Rannafast Cup game and after which they will meet with the school Headmaster and get a tour around the Abbey's new school.
A seven a side tournament will be held on the Wednesday of their visit with boys from both schools playing together in what should be a unique experience.
On their final day at The Abbey Ivanhoe College will play a match against the students who have hosted them before continuing on their Irish Tour.
The Melbourne students will also have the opportunity to attend some classes while at The Abbey.