Art & Design Speakers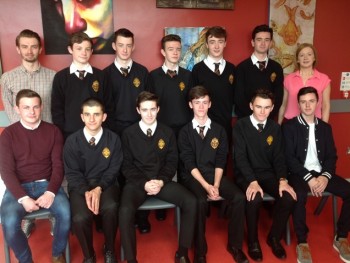 Date Posted: 18th September 2015
Ms Hughes was delighted to welcome past pupils Conor Savage, Shane Finegan and Declan McCabe to the Art & Design Department today. They spoke with junior and senior students about their chosen university courses and placements in Civil Engineering, Graphic Design & Illustration and Architecture respectively and how their careers opportunities have developed as a result of studying Art & Design at GCSE and A Level. Our current students benefitted greatly from our guest speakers' knowledge and experience.
Ms Hughes would like to thank Conor, Shane and Declan for taking the time to revisit the Art & Design Department before returning to their university courses next week.
Past pupils Conor, Shane and Declan pictured with current A Level students and Ms Hughes (Acting Head of Department).