ARKWRIGHT SCHOLARSHIPS AWARDED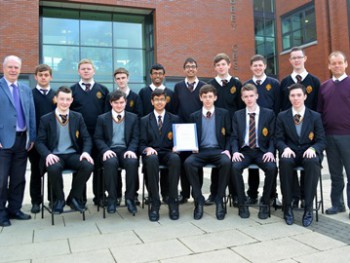 Date Posted: 6th March 2015
MORE ARKWRIGHT SCHOLARSHIPS AWARDED TO ABBEY PUPILS
The continued development of Technology & Design for students in the Abbey Grammar CBS is of prime importance, with engineering talent being identified and opportunities offered to support the careers of our younger engineers. One such initiative is the Arkwright Scholarships. The aim of the Arkwright Trust is to identify and nurture future leaders in engineering and related areas of design. Arkwright provides financial support to their scholars during their A Levels and, more importantly, offers a mentoring program. This program links individual students with key engineering companies who, in turn, offer tailored support to students through their A Level studies.
Arkwright award Engineering Scholarships through rigorous selection to outstanding engineering and design-minded 15/16 year old students. The Abbey has currently 8 Arkwright Scholars with a further six students now at the last stage of the selection process. This process involves a final interview being held in Queen's University on the 31st of March. We wish them well.
Front row(l-r)Rory McCormack, Nathan Hughes, Venkatesh Kamath, Conor McAvoy, Cormac Donnelly, Turlough Brady. Back Row(l-r) Mr Dermot McGovern, Headmaster, Glenn Mooney, Jason McCabe, Zain Shahid, Rafael Ali, James Vint, John Catterson, Christopher Downey and Mr Tony Mooney, Head of Technology.