Abbey win thrilling under 16 basketball Final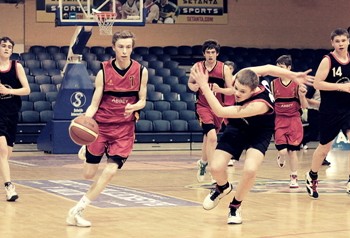 Date Posted: 18th June 2012
The Abbey boys won this final with a resounding 55 – 37 defeat of Christian Brothers High School, Clonmel. The two Aarons – Miller and O'Reilly were outstanding in this performance. The Abbey boys were led by there industrious captain, Garrett Campbell, who led by example throughout the entire game with great defensive skills.
It was he who opened the scoring for the Abbey and this was followed in quick succession with scores by Aaron Miller and Aaron O'Reilly. In this first quarter the abbey boys produced some scintillating basketball and with further scores from Peter O'Hagan, Ross O'Hanlon and the two Aarons, the abbey led 23 – 7 at the end of the first quarter.
Gary Black opened the scoring in the second quarter before Aaron O'Reilly and Aaron Miller scored more baskets to leave the score 33-17 at half time.
Cathal Donnelly opened the scoring in the third quarter followed by several scores form Peter O'Hagan, Jason McCabe, Miller and O'Reilly to leave the abbey boys in a comfortable position going into the final quarter.
The Abbey led 48 – 30 but further scores from O'Hanlon and O'Reilly increased the Abbey's lead. One of the highlights of this final was the 3 point shot by Aaron Miller which certainly epitomised his outstanding talent and which certainly gained him the MVP of the game. This was a superb team performance and Aaron O'Reillys total of 21 points was another superb contribution.