Abbey Year 8s Read for Children's Cancer Fund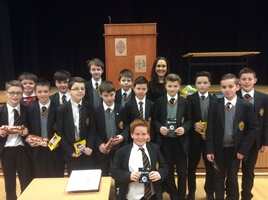 Date Posted: 23rd March 2016
This term, our Year 8s put their impressive reading skills to great use in raising money for the Children's Cancer Fund.
In total, the year group raised a staggering £1,625.59!
As well as collecting sponsorship for such an important cause, the pupils submitted some excellent quality work as part of their evidence for the challenge.  We had character Facebook pages, a huge range of book reviews, some beautiful comic strips and a lot of mind-boggling quizzes…all based on a wide range of the books read.  Books from different genres inspired our readers to choose titles they wouldn't normally pick and there were lots of new and surprising favourites found in the process!