Abbey Quiz Team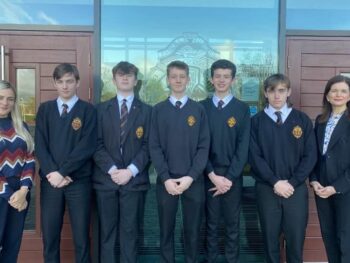 Date Posted: 21st October 2022
🔴⚫️🟡Abbey Quiz Team 🧐
Today, the quiz competition ended victoriously for the Abbey, who, with a final score of 220 points will now progress to the finals to be held in the Abbey, next Tuesday.
Today's opponents were our close neighbours, Sacred Heart Grammar School, who with a score of 125 points became the 6th team to leave the competition.
The Abbey now face a tough challenge in the finals against St. Louis Grammar Ballymena.
Our very own, Ben Mooney, Year 13, did a great job hosting the event, along with the help of Mrs K Cranston and Ms S Kee.
The following students make up the Abbey quiz team. Well done to all and good luck in the final 🙏
Leo McAreavey (Yr 13)
Eoin Kernan (Yr13)
John Paul McGreevy (Yr13)
Owen O'Neill (Yr13)
Michael Comer (Yr12)
Christopher Heaney (Yr14)