Abbey Pupils Celebrate Excellent A Level Results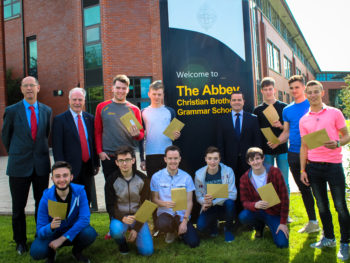 Date Posted: 18th August 2017
The Principal Mr Dermot McGovern along with the Vice Principals Mr Paul O'Shea and Mr Ronan Ruddy celebrate with some of the high achievers gaining 3 or 4 A*/A grades at A level. Included are Ronan Burke, Ryan McKeown, Niall Courtney, Conor Cox, Matthew Linnie, Brian McAteer, James McCartan, Aodhan McEvoy, James McGovern and Liam Rock.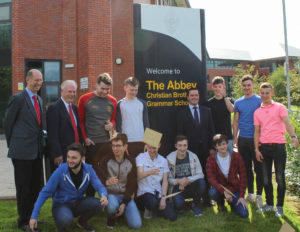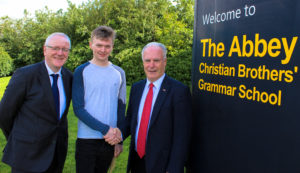 Mr Dermot McGovern and Mr Padraig McKeever, Upper Sixth Year Tutor, congratulate Ronan Burke (2A* & 2A grades) and Ryan McKeown (4 A grades) for their outstanding results.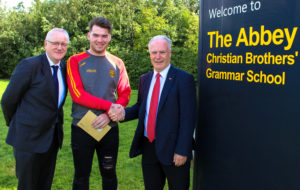 Mr Dermot McGovern, Headmaster congratulated all the leavers on their results. He indicated that virtually every boy achieved his first choice university place. He was also delighted with the Lower Sixth performance in their AS examinations. He paid tribute to his hard working staff, both teaching and support staff and thanked them for all their efforts and dedication to the welfare of their students. He also acknowledged the strong school-parental links that helped the boys to achieve their best.