Abbey Players Reach Mageean Final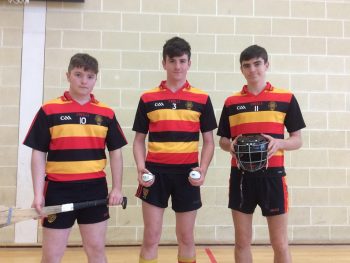 Date Posted: 24th October 2017
Abbey students Billy Campbell, Sean Campbell and Paul McCusker will represent the Abbey in the amalgamated An Dun Mageean Cup team in the final this Friday night at the Dub in Queens.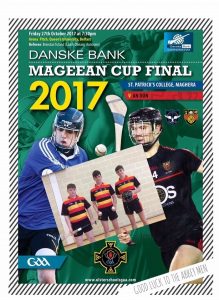 Semi Final Report – published on www.ulsterschoolsgaa.com
Danske Bank Mageean Cup semi-final
By Kevin Herron for thesaffrongael.com at the Dub
For the first time in the history of the Danske Bank Mageean Cup there won't be an Antrim representitive in the show piece occasion next Friday evening at the Dub thanks to An Dun corner-forward Tim Prenter.
With this evenings semi-final evenly poised at 2-15-0-21 three minutes into injury-time, it looked as though sharpshooting free taker Conor McCrickard had spurned the opportunity to give his side victory as the ball dropped short, however Prenter stabbed the ball home past McGowan in the Cross and Passion goals to seal his sides third appearance in the Mageean final.
It was An Dun who started the brighter at the Dub with Caolan Coulter firing over within the first sixty seconds and Conor McCrickard adding placed ball from 65-yards to give their side a 0-00-0-02 lead within the first two minutes.
Cross and Passion hit back however and lead just before the fifth minute, Conor McBride struggled to gain possession after numerous dips but he did manage to find the run of Michael McGarry who fired into the roof of the net past Conor McLornan to give the Ballycastle side a 1-00-0-02 lead.
McCrickard levelled from his second successful 65' yard free of the evening, but Ryan Hill edged Cross and Passion a point ahead once more from a converted free.
Hill's converted free would be his sides last for eight minutes as An Dun seized the initiative and the lead at the Dub.
Conor McCrickard linked up with Niall McFarland who drew his side level and within less than sixty seconds Tim Prenter split the posts to give An Dun a 1-01-0-05 lead.
Ryan and Caolan Coulter were both accurate for An Dun in between a third 65' yard free from McCrickard as four-points separated the sides at the midway point.
Michael McGarry hit his sides first score in eight minutes with a lovely angled point, but some neat link up play between Caolan Coulter and Phelim Savage saw the midfielder strike his first point of the evening.
Ronan Costello and a converted Ryan Hill free saw the side's trade scores; however with twenty minutes on the clock An Dun stretched their lead to five-points through a converted McCrickard free to make it 0-11-1-03.
In the wake of McCrickard's free a seven minute scoreless period followed, that was ended by Cross and Passion's Ben McQuillin and Michael O'Boyle, both splitting the posts to bring their side within three-points of An Dun.
The sides traded the final four scores of the half, Liam McCarthy and Tim Prenter stretched their sides lead to four-points, however on both occasions Cross and Passion replied through a converted Ryan Hill point and Michael McGarry to ensure the gap remained at three at the interval, 0-13-1-07.
0-3
0-11
Cross and Passion reduced the deficit within sixty seconds of the restart through corner-forward Conor McBride and with little less than five minutes on the clock, McBride confidently burst through the An Dun defence and fired past a helpless Conor McLornan to edge the Ballycastle side 2-08-0-13 ahead.
Ryan Hill converted a 65' metre free as Cross and Passion hit 1-02 without reply in a blistering start to the second period, though McCrickard reduced the deficit to the minimum with a converted free on 37 minutes.
Cross and Passion stretched their lead to three with scores from McBride and Hill in quick succession, but An Dun weren't about to throw in the towel and top scorer McCrickard led the fight back with two converted frees in between a fine point from play by midfielder Caolan Coulter as the sides were tied level at 2-11-0-17 with twelve minutes remaining.
The pendulum appeared to swing back in the favour of Cross and Passion who restored their three-point lead through Conor McBride and two points from Michael McGarry, but An Dun were dogged and hard to shake off as Conor McCrickard brought his tally to the evening to 0-11 with three converted frees in a three minute spell to draw the teams level at 2-14-0-20.
An excellent Ryan Hill edged Cross and Passion in front once more in the 58th minute, but McCrickard landed his final score of the evening from play to level for the fourth time in an epic semi-final as the possibility of extra-time at the Dub loomed large.
Cross and Passion spurned the opportunity to take the lead two minutes into additional time as Ryan Hill sent an effort wide to the right of the large posts and wide, after working the ball downfield An Dun were also presented with an opportunity to seal the win.
Conor McCrickard took responsibility as he went in search of point number thirteen, he appeared to be unlucky with his effort which landed short, however Tim Prenter was perfectly positioned to stab McCrickard's effort past McGowan in the Cross and Passion goals to give his side a late 1-21-2-15 lead.
Referee Aidan Kelly blew his whistle within seconds of McGowan's puck out as An Dun celebrated a late and great victory over the Ballycastle side, whose players dropped to the turf crestfallen at full-time.
An Dun will now take on St Pat's Maghera in an historic Danske Bank Mageean Cup decider next Friday evening under lights at the Dub.
An Dún : C McLornan, J Hughes, E Kelly, M McAreavey, L McCarthy, Cathal Coulter, B Campbell, P Savage 0-01, Caolan Coulter 0-03, N McParland 0-01, C McCrickard 0-12, 0-6 frees, 0-2 65s, R Costelloe 0-01, R Coulter 0-01, R Blair, T Prenter 1-02.
Subs: R Murphy for J Hughes (31 mins ), S Martin for N McParland (42 mins ), C Watson for R Blair (52 mins).
Cross & Passion : D McGowan, C Donnelly, O McMullan, Colm Butler, B McQuillan 0-01, O McAuley, N McCormick, Connaire Butler 0-01, C Hargan, C McHenry, M McGarry 1-03, R Hill 0-4, 0-3 frees, C McBride 1-04, M O'Boyle 0-01, S McAuley 0-01.
Subs: J McKay for C Donnelly (15 mins ), C Donnelly for M O'Boyle (42 mins), R McFarland for C McHenry (52 mins)
Referee: Aidan Kelly (Naomh Eoin)