Abbey Frontline Workers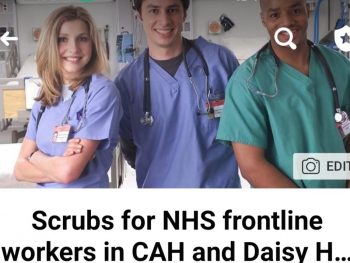 Date Posted: 10th April 2020
Well done Mr Savage and Mr Higgins. A proud night for Abbey CBS. Both received a Chairperson's award for their work supporting the community during this Covid Crisis.
If you need visors please get in touch.
Keep safe
Wednesday 13th May 2020
 The new design is going down a treat and is flying out the door. The robust nature of the design and the use of industry standard materials leaves it well placed in terms of longevity and reusability. It has been tested and meets the stringent standards set in relation to the disassembly and cleaning of the visors.

We have been supplying local care homes including Ashgrove, Rockfield, St Clare's Covent, The Ambulance Service in Monaghan Town. We made deliveries to a number of Carer teams in and around Newry City, South Armagh and Louth. We also had special deliveries to two tiny recipients who have to travel back and forth to Hospital for regular visits to receive medical assistance for their underlying health conditions. Special shout to out to baby Lenagh from Camlough who looked so settled for her journey to one of many visits back and forth to her hospital visits to Belfast.
Be assured we are working through the requests and are working hard to get more materials as we have nearly exhausted our supplies.
Monday 11th May 2020
We have been very busy manufacturing both adult and baby/youth visors and this has been interspersed with deliveries to Carlingford Lodge Warrenpoint, Mountvale Clinic Dromore, Speech and language community support in Dundalk, ICU in the Mater in Belfast. Doctors Surgery in Maghera Co.Derry, St Luke's community carers, Health Care Banbridge and Various Independent requests from teachers and people in the community who are going back into work to provide support for Key workers families.
It is heartwarming the positive response we are getting from recipients and the compliments in relation to the quality of the visors we are producing. We are just so happy the fruits of our labours are being so warmly received. It gives us momentum in this our sixth week of manufacture.
Keep requesting and we will keep manufacturing!
Take care,  keep safe!
Wednesday 6th May 2020
Following a request from a concerned mother who has to take her young child to Craigavon on a regular basis and needed a baby visor. We relished the challenge to design and manufacture the baby visors. All the rest are ready for collection. Be safe everyone
Monday 4th May 2020
Thank you so much for the 30 Visors , they are greatly appreciated. They are really good quality and comfortable. Enclosed is a photo of a few of my colleagues from The Mandeville Unit in CAH. Therese Brooks.
It's been a busy few days as we try and keep on top of the demands for visors. We are truly humbled by the responses we get from people when we are able to fulfil their requests. We delivered the length and breadth of the country and like the virus itself we don't recognise county borders ????. We have delivered to the St Clare's Nursing home, Dromore Surgery and outreach workers, the Convent of Mercy Nursing home, Domiciallry Care Workers in Bessbrook, Crossmaglen Health Centre, Cancer Unit CAH and the Covid A & E dept the Mater Hospital Belfast.
We would like to thank Collins Aerospace snd Easifit Car Seat covers for their continued generosity and support.
Lots more orders to be completed and delivered tomorrow please bear with us. Anyone who still needs visors please share this post and encourage them to get in touch. In the meantime keep safe and God Bless
Thursday 30th April 2020
As our Technology Department continue with their Visor Production we wish to thank our friends and past pupils who continue to donate materials.
Visor manufacture is relentless and we are midway through our fourth week and it has flown. This would not be possible without the goodwill of our suppliers of materials who continue to support us.
It was a great pleasure to have past pupil Fiachra Mc Kernan who works with Tuath Housing Association in Dublin back with us to collect visors for use in inner city Dublin, we delivered to Southern Area Hospice, Therese Brooke's Mandeville unit CAH, local Adoption & Fostering outreach Social Workers, Prestige Domiciliary Care Workers and the Adult Speech & Therapy team CAH.
If you need visors please get in touch.
Keep safe
Monday 27th April 2020

Today we worked hard on a backlog of orders to get everyone sorted as the new demands keep coming.
Deliveries where made to Banbridge Occupational Therapy unit, Speech and Language therapists who visit elderly sick and vulnerable patients in Co. Louth, the Adult Speech Therapy Team based in Craigavon, Seafort House in Warrenpoint and community carers who work in the South Armagh area and we are receiving requests from people who are being redeployed to carry out covid testing in Residential homes.
We delivered to Dublin, Belfast and around Newry City. We had Visors delivered to the Paediatric Daycare Ward and the infectious disease wards in the RVH Belfast, Drs Forshaw, Curran & Brannigan in Clanrye Surgery. Domiciliary Care workers and Daisy Hill Community nurses. We will be making more deliveries tomorrow
We want to thank Collins Aerospace for their kind donation of materials, Tara Mc Intyre who never refuses us and to the Social Committee representing the Abbey Staff who came with gifts and buns! And a lovely card thanking us for our work on behalf of the Abbey Community.
So it was another eventful day and we continue to think of, and pray for, the safety of those on the frontline.
Take Care and Be Safe
Thursday 23rd April 2020 – Press Release

Abbey Staff complete their 1000 visor (PPE) for the local and wider community
In these strange and difficult times, it is always heart-warming to hear positive news stories and how peoples' creativity and generosity come to the fore during this pandemic. Gerry Savage, Head of Construction at the Abbey CBS Grammar School Newry has inspired some of his colleagues to work in school since the lockdown, including what would have been the Easter holidays, to construct visors to protect the many key workers who have been bravely helping others without any or limited PPE. The growing list of people and institutions that have currently received these visors include Daisy Hill Hospital all departments, Acute Home Help & Domiciliary Care, all local nursing homes, Southern Area Hospice, Cuan Mhuaire, Father Peter McVerry Trust (Dublin), many individuals who are working on the front line.
Many thanks go to the following institutions and companies for providing further raw material when the school resources ran dry; Abbey Past Pupils Union, Charles Burn (Brett Martin – Belfast), Haldane Fisher, Tara McIntyre (Easifit Car Seat Covers), Custom House Upholstery, and local post-primary schools, and other generous individuals in the local community.
The Abbey community is greatly indebted to the four main 'workers'; Sean Higgins (Technology & Construction Technician), Willie McCullough (Caretaker), Sean Sloan (Principal & ex-technology teacher) and Gerry Savage. For update information and details of how to ask for visors go to  Gerald Savage Facebook page or email [email protected]
Wednesday 22nd April 2020

Yesterday we reached our target  of 900 visors manufactured, each one donated representing a pupil in our School Community and today we broke through the 1000 barrier! 1028 to be exact. Tomorrow there will large amounts of visors delivered to The Southern Area Hospice, Fr Peter Mc Verry Trust in Dublin and Cuan Mhuire. We will also be fulfilling outstanding orders to Domiciliary care workers and Nursing Homes.
We are not stopping and will keep going until we are no longer needed.
Keep safe everyone.
Monday 20th April 2020
Deliveries were made to Colette and her colleagues who work in the Acute Home Area Team based on the DHH grounds, Male Medical Dept DHH, to a past pupil Patrick Tiernan and his colleagues, Paediatric Day care in the RVH and various strands of home Help carers in the Community.
It is important that we thank all the people who donated materials and supported us over this couple of weeks. We have as of today produced over 950 visors which for us symbolises a donation to our frontline workers from every student and staff member in the Abbey Community.
It was a target we set for ourselves and we will break through the 1,000 barrier tomorrow. We just can't finish there! There are still so many requesting support and we said previously as long as the demand is there, the materials are donated and available to us we will not be found wanting.
Thank you so much for the support to date. Be safe
Friday 17th April 2020
Another hectic day a number of additional deliveries to St. Joseph's Nursing Home and Carlingford Lodge both in Warrenpoint, Siobhan Rooney, DHH received visors for her Psychiatric team, and Cllr Oonagh Magennis called again to collect visors on behalf of carers of very ill and vulnerable family members.
Mrs Ciara Wadsworth new Principal at St Joseph's & St Jame's Primary School Poyntzpass received visors as the school will be supervising children next week. We answered a plea from Fr Malachy Conlon this evening to assist Carlingford Care Home who were desperate for PPE and were running out. Mr Sloan was hastily dispatched to answer their call. 
We have a number of People to thank today : A big thank you to the EA and in particular Paul Rodgers, Senior Technology Technician for driving from Portadown Clounagh Centre at short notice today to keep our production going with essential materials.
A big thank you to St Joseph's High School Armagh Road and Senior Teacher Mr David Nolan for the supply of Acrylic material, keeping production going and to St Marks Warrenpoint for a further consignment of acrylic delivered on their behalf by Mr Raymond Beggs Head of Technology.
We still want to get the message out that we are here to provide protection for your colleagues and loved ones so get in touch!
Keep safe
Thursday 16th April 2020
Today we had a visit from Past pupils the Mc Nally brothers from Poyntzpass who collected Visors for the Southern Trust Community home care team in Clonoe and Stewartstown area, other recipients included the Research Ethics dept CAH. Mental health dept and Staff at John Mitchel Place and Home Care workers covering Belleeks and Whitecoss area. A special delivery is on its way the RVH in Belfast who are providing great care for one of the Abbey family.
Thanks to St Marks High School for their generous donation of materials today and to Miss Mc Quillan who arrived around lunch time with treats for the team.
If you require visors please get in touch. Via [email protected] We want to keep you safe
Keep safe
Wednesday 15th April 2020
Today we distributed our face shields to Ballybot Surgery, Southern Trust Community respiratory team, Cornmarket Surgery, the Physio Dept DHH, Care workers and Home Helps working with the most vunerable in the community.
We must also thank our suppliers who have donated materials including: Tara McIntyre who has been a great source of support, Custom House Upholstery Warrenpoint and St Mary's High School, in particular Mr B Morgan who delivered a vast amount of acrylic. Thank you all.
Tuesday 14th April 2020
Another productive day! If there was ever a chance of us waning the responses of frontline workers on the difference the visors are making is driving us on.
Today Mr Sloan sent out a plea to other schools in the area for donations of coloured acrylic due to the high level of demand and our stock was getting low. We are very grateful to Mr McKinney and our friends over at St Colmans for providing additional materials to keep the production line running. A special thank you to Peter Kennedy for rushing supplies over this afternoon.
We continue to work hard to satisfy the demand and delivered to Bessbrook Surgery, Newry GP's Surgery, Daisy Hill Hospital Renal Care, Coronary Care, Male Medical, Acute Care Home Medical team, the Community learning Disability team, Drumcashel house, Carlingford Lodge Home, Ardmaine Nursing Home and to Home Care community teams in both South Armagh and South Down.
One of our past pupils Liam Duffy requested, and accepted a delivery of visors for use in Craigavon Area Hospital. Other family and friends of the Abbey collected visors requested for their loved ones who continue to work on the front line. So tomorrow is another day and we will work hard to satisfy other existing orders.
Please keep getting the word out there, and if anyone needs visors please get in touch. We will continue to manufacture whilst the need is there.
Onwards and upwards, keep safe and God Bless.
Monday 13th April 2020
We had another busy day with a new recruit joining us this morning.
Needless to say production was well up with the help of the Principal Mr Sloan. There were a few people to thank today namely Tara McIntyre mother of our student Daniel and owner of Easifit Car seats who generously donated a large amount of Velcro and elastic and a big thank you to Haldane Fisher Newry for their donation of sheets of Styrene for the manufacture of face visors.
A special thanks to Gary Cranney of Haldane Fisher who opened up this morning for us to ensure we got the material. Deliveries were made to Avila Nursing Home In Bessbrook, Newtownhamilton Health Centre, Carlingford Lodge Nursing Home, various Healthcare facilities in and around Warrenpoint,home care workers and family members of our Abbey community who had requested our help.
There are two sets of visors also on there way to both Doctors Surgery's in Crossmaglen in the morning. We have a number of requests to sort tomorrow and if there any other frontline staff who need visors or indeed need more visors please contact us and we will endeavour to help.
Thanks again for the continued support and any donations of materials will be greatly received. We could not do this without you.
Stay safe everyone.
Saturday 11th April 2020
Today was a day away from the Abbey, but they still had homework to do! They were set the task of assembling the visors off site and delivering them to those highlighted by our Abbey community as frontline staff of friends and family who would benefit from our support.
Visors were delivered to Claire Our Caretaker Willie's daughter in Belfast, the Glencarron Nursing home in Crossmaglen, Ardmaine Nursing home and the Mercy Nursing homes in Newry. We also delivered visors to the Cardiology dept in Daisy Hill and a number of care workers who are working tirelessly serving the needs of the most vulnerable in our community.
We are indebted to our supporters who continue to provide materials to enable us to continue our work. To Paul Grant from lislea who has provided and purchased materials for us, we thank you most sincerely. 
God Bless and keep safe. 
Friday 10th April 2020
Another productive day began with a delivery of face shield material kindly donated by Brett Martin Holdings based in Belfast.
Many thanks to Shane Murphy who gave generously of his time to go to Belfast at short notice to collect it and to Charles Burns the companies representative who facilitated it through his connections with the Abbey Past Pupils union.
We made two deliveries to Daisy Hill today to HDU , Maternity, Theatre to name a few and some are making their way this weekend to health facilities in Warrenpoint , Crossmaglen, Newtownhamilton and care homes in Newry along with Carers working in the community.
A big shout out to Lisanally Special School who travelled from Armagh this morning and Rathore for their generous donations of Velcro which helps greatly in the manufacture of the visors and to the very generous individuals from the community who contributed materials also.
On behalf of the very grateful recipients of visors we thank you most sincerely. Assembly continues from our homes over the weekend and back at it Monday!
Thanks again to our frontline Staff and keep safe everyone.
Another day at the Office. Deliveries made this morning to Daisy Hill Hospital to the Maternity, High Dependency, ICU and Radiography wards and promised others we would be back this evening. Visor Material is on its way from Belfast having been collected by Shane Murphy thanks Shane. So it will he all systems go!
The very giving community keep on giving thanks for the latest supplies. We care and value our Frontline workers. If you need our help please email us and we will get back to you.
Thanks for all you do!
Thursday 9th April 2020
Firstly we have to place our thanks to you the good people of South Armagh and South Down for your brilliant response to our call for help in sourcing materials last night, your generosity knows no bounds.
Our Past Pupils Union have been unwavering in their work behind the scenes using their vast network to get us large quantities of sheet material for our visors. So we have no excuses and it's full steam ahead as we strive to satisfy the demand in both Daisy Hill Hospital and the various community Health initiatives in South Down and South Armagh. Care homes, Home care staff get in touch so we can get some to you!
If you are in need please do not hesitate and get in touch!