A School's Response to a Son's Plea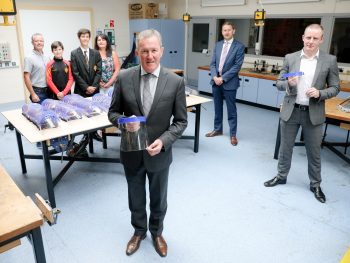 Date Posted: 4th June 2020
A desperate plea by a son on behalf prompted Abbey Grammar School Newry in to an incredible action to support frontline workers amidst the challenge posed by COVID-19.
Dear Sirs
I am emailing you all on behalf of my mum, her fellow GPs and ill-equipped front-line workers including district nurses, carers and care home workers. As I am sure you are all very well aware of the dangerous and frightening situation they are all being forced into without the appropriate and possibly lifesaving PPE. What I am asking, on behalf of my mum and her colleagues, is there any possibly that any of you could start 3D printing of face shields/visors (they are not being provided amongst the health care workers that need them in the local community.) There is a company that has started to do this called hero shields and multiple local schools have also begun production of something similar. My mum and her colleagues have to work in treacherous conditions in the Covid centres, with inappropriate PPE and would REALLY appreciate and would be absolutely delighted with any amount that you could produce. If it's not possible, we fully understand but we are just trying to do all we can to give them a fighting chance.
Thanks
James
Like James, many students have mothers, fathers, sisters, brothers working in the frontline line in the fight against COVID-19. Doctors, nurses, carers are all working in vulnerable positions. Many students also have concerns regarding their grandparents and other vulnerable relatives in care homes or receiving care from community nurses and carers.
The Abbey staff had previously gathered up any goggles, gloves and technician visors and had passed them on to the frontline through James's mother. This letter struck a chord. It was a very desperate plea on behalf of an anxious son.
Two of the staff immediately took up the challenge. After working around with materials Gerry Savage contacted Thomas Hackett in the Technology Department at Our Lady's in Newry who showed him a design they had been trialling using a laser cutter. While not having the luxury of a laser cutter, Gerry and Sean Higgins, (Technology Technician) developed a design using the school's computer controlled router to create the main band of the visor.
A request from principal Sean Sloan to the Abbey Past Pupils & Friends Association not only generated immediate funding for materials but also through Charles Byrne of Brett Martin, a consignment of medical grade clear visor material was delivered within 24hours. Further deliveries of Velcro, foam and elastic was generously donated by Tara McIntyre of Easifit Car seat covers and Damien Mulvenna of Custom House Interiors. Two hundred visors were very quickly manufactured over the Easter Weekend and immediately distributed.
Easter holidays were cancelled, Gerry, Sean and principal, Sean Sloan, (a past Technology Teacher) spent last week in the school workshops manufacturing face-visors. An email out to the school community meant the school was inundated with requests for face visors.
The Abbey initially set the target of a gift of a visor on behalf of every student in the school, 900 visors. That target was quickly surpassed with over 2000 visors now being used in, hospitals, Daisy Hill, Craigavon, the Royal, Musgrave Care homes, Newry Hospice, medical practices, nurses and carers in the community both North and South. Where ever members of our communities needed them, we supplied.
When asked yesterday if production will now stop, Principal of The Abbey, Sean Sloan responded very directly, It Can't!  We have had so many further requests. What really brought home to us the urgency of this work, is the sheer numbers of our school community involved in care or medical professions and how they are telling us they do not have adequate PPE.
One particular case really re-energised us to keep going:  One of our students has a close family member seriously ill in Musgrave Park hospital. His mother requested some face visors for the nursing staff looking after the family member. When she handed the visors to the staff, they cried. They had been without full PPE and felt completely vulnerable as they moved between patients.
The big positive to come out of this is the amazing community spirit. When materials having been running low, local schools have been providing us with stock from their schools, opening over Easter to ensure we received them. Special schools have been donating Velcro and other materials. Local companies have also been supplying us with foam, elastic, Velcro, etc. Our staff have been arriving in with cakes, scones and pavlovas. St Mary's High School Newry and St. Marks in Warrenpoint have also taken up the challenge and have also been working away producing visors.
Today we welcome Conor Murphy MLA along with his fellow MLA Justin McNulty (Abbey Past Pupil), who is visiting and thanking the team that produced so many life-saving visors; Gerry Savage, Sean Higgins (also celebrating his 50th birthday) and Principal Sean Sloan. Also meeting the Minister of Finance are the Greer family; Dr Anne and Paul Greer, sons Daniel and James, the author of the original letter that started this whole incredible journey.