Outstanding GCSE Results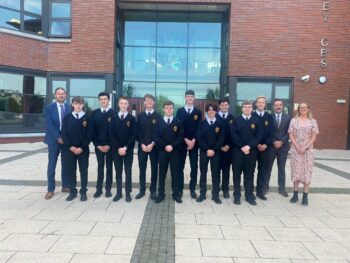 Date Posted: 29th August 2022
🔴⚫️🟡Abbey pupils celebrate outstanding success with outstanding GCSE results
Fifth year students at the Abbey Christian Brothers' Grammar School, Newry are celebrating after receiving their GCSE results last week.
A delighted Headmaster, Mr Sean Sloan, congratulated all the students who received their GCSE results after five year's hard work in the Abbey. 96% of the year group succeeded in gaining seven or more passes at GCSE, with 92% achieving passes in 9 or more subjects. and an incredible 35 students achieved 9A*/A grades or above, with 10 students achieving an incredible 11A*! He paid tribute to his hard working staff, both teaching and support staff and thanked them for all their efforts and dedication to the welfare of their students. He also acknowledged the strong school-parental links that helped the boys to achieve their best in these very challenging times.
Photo 1️⃣
The Principal Mr Sean Sloan along with Year Tutor Mrs Bernarde Tohill and Head of School, Senior Teacher, Mr Mark Rodgers, celebrate with students from the Abbey who achieved at least 9 or more A*/A grades in their GCSE examinations. Included are Maximillian Coyle, Mikel Farrugia, Niall Fitzpatrick, Gareth Jennings, Michael Keenan, Frankie Larkin, Senan Loughran, Niall Maguire, Conor McArdle, Oliver McCourt, Brendan McCoy, Ronan McGivern, Donagh Murdock, Conor Murphy, James O'Hagan, Senan O'Reilly, Adam Phelan, Connor Pollard, Caleb Savage, Tymoteusz Szczeszek, Arann Trotter, Jamie Wallace and Odhran Watters. Missing from photograph are Oran Connolly and Nathan Craig.
Photo 2️⃣
The Principal Mr Sean Sloan, along with Mr Rodgers and Mrs Tohill congratulate our top achievers, Rowan Cloughly, Ciaran Coghlan, Finn Donnelly, Eoin Kernan, Aidan Lynch, Leo McAreavey, John-Paul McGreevy, Eoin McMillan, Ben Mooney and Owen O'Neill who obtained an outstanding 11 A*/A at GCSE!
#proud
#GCSEResults2022