Abbey MacRory Loose by a point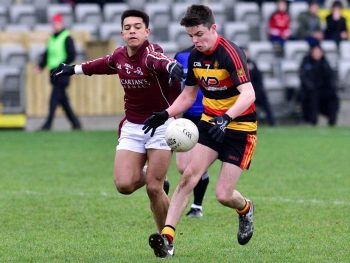 Date Posted: 11th February 2017
Danske Bank MacRory Cup quarter-final
Abbey CBS 0-9   St Paul's Bessbrook 1-7
A great opening few minutes and a beautifully finished goal in the 45th minute were the keys that unlocked this Danske Bank MacRory Cup quarter-final on Saturday in Páirc Esler.
St Paul's Bessbrook had three points on the board before Abbey CBS managed to get the ball out of their own half in the third minute, and last season's beaten finalists stayed ahead for the duration of the game.
The goal in the 45th minute started inside their own 13 metre line, with a turnover when Abbey looked through on goal, Conor Clarke carried out of defence with the help of Zygimantas Burnickas before Ziggy found Liam Kerr for a fine finish at the right hand post.
That gave them a 1-7 to 0-5 lead and they were able to withstand sustained pressure from Abbey during the last quarter to enter the semi-final draw where they pulled St Mary's Magherafelt, while St Colman's Newry will face the winners from Wednesday evening's final quarter-final in Armagh between St Ronan's Lurgan and Patrician High Carrickmacross.
St Paul's were the more composed team throughout, but Abbey CBS will look back on the game as one that got away on them; my count on balls that dropped short into Ryan Daly's or a defender's hands reached 13, while there were just as many wides.
It took the Abbey all of 18 minutes before Shane Smyth opened their account and by that stage St Paul's had tagged on four points.
By half-time however they had narrowed the gap to 0-5 to 0-4 with the pick of their scores a beauty from substitute Bliain McGrath in the 28th minute, while Liam Kerr responded with a pointed free.
The impressive Shea Loye took a great diagonal pass two minutes into the second half to slot over another Bessbrook point, while Abbey continued to be wasteful and St Paul's defence really effective.
Then Niall McGuinness played Ryan Hughes in for a goal-chance, but the ball crashed back off Abbey's right hand post to safety.
However Richard Keenan extended St Paul's lead with a point in the 37th minute, before Bliain McGrath responded with Abbey's opening score of the second half after 41 minutes.
Then came the St Paul's goal at the three-quarter stage, their last score of the game.
Abbey pressed hard and hit a purple patch between the 53rd and 56th minutes when they converted four chances, and St Paul's couldn't get their hands on their own kick-outs. However they managed to steady the ship and see out three extra minutes of injury-time to make the semi-finals.
St Paul's: R Daly,J Bennett, C Magennis, D Loye, C Cosgrove, E McCabe, C Clarke, Z Burnickas, D O'Hagan, N Magennis, R Keenan 0-1, R McGuinness, L Kerr 1-2, 0-2 frees, S Loye 0-4, 0-2 frees, R Hughes.
Subs : A Davidson for N Magennis (43), A Lenagh for R Keenan (53), T O'Hagan for C Cosgrove (57).
Abbey CBS: R Kelly, M McAvoy, C Cox, Adrian McAvoy, N Courtney, S Smyth 0-5, 0-2 frees, A Lynch, D Catterson, J Martin, Aodhan McAvoy, R Fegan 0-1 free, R McCormack 0-1, E Lennon, L Rafferty, T Brady.
Subs : B McGrath 0-2, 0-1 free for J Martin (25), C Donnelly for N Courtney (30), P Martin for T Brady (52), E Carr for E Lennon (52).
Referee : Martin McNally (Monaghan)