Biology Challenge 2002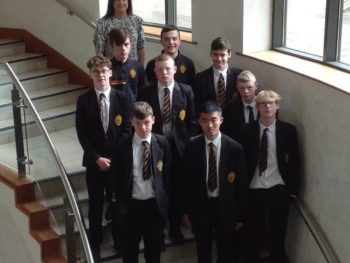 Date Posted: 17th June 2022
𝔹𝕀𝕆𝕃𝕆𝔾𝕐 ℂℍ𝔸𝕃𝕃𝔼ℕ𝔾𝔼 𝟚𝟘𝟚𝟚
Congratulations to the following year 10 Biology students who competed in the Biology Challenge 2022. Over 41,000 students from 550 schools worldwide took part in this years competition.
Highly Commemded – Oisin English, Joe McCourt, Zehang Cheung and Jamie Havern.
Commended – Tom Magill, Joseph McConville, Lorcan McClean, James Coghlan, James McBennett (Daniel Lennon and Eoin McCreesh missing from photo)
Congratulations also to Matthew Sweeney, year 11 who received a Bronze award and Michael Comer who was commended.
Many thanks to Mrs McGinley, Head of Biology, for coordinating