Safer Internet Day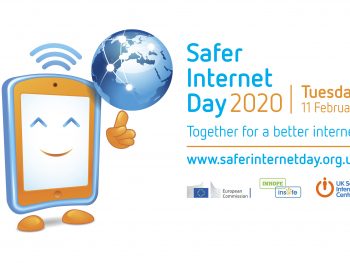 This event has passed.
All Day - Tue 11 February, 2020
Safer Internet Day (SID) is an EU wide initiative to promote a safer internet for all users, especially young people. It is promoted in Ireland by the PDST Technology in Education and Webwise. The Theme for Safer Internet Day is "Together for a Better Internet". Safer Internet Day 2020 will take place on Tuesday 11th February 2020. This year almost 145,000 people in Ireland celebrated Safer Internet Day 2019. About Safer Internet Day Safer Internet Day aims to inspire a national conversation about using technology responsibly, respectfully, critically and creatively. Coordinated in the UK by the UK Safer Internet Centre the celebration sees hundreds of organisations get involved to help promote the safe, responsible and positive use of digital technology for children and young people. The day offers the opportunity to highlight positive uses of technology and to explore the role we all play in helping to create a better and safer online community. It calls upon young people, parents, carers, teachers, social workers, law enforcement, companies, policymakers, and wider, to join together in helping to create a better internet. As a result of this collective action, Safer Internet Day 2019 : Reached 46% of young people aged 8-17 and 26% of parents. 78% of young people felt more confident about what to do if something worried them online Resulted in 82% of parents talking to their child about using the internet safely. Led to 42% of teachers receiving disclosures of potential safeguarding issues online. We invite everyone to join us, and Safer Internet Day supporters across the globe, to help create a better internet on Tuesday 11th February 2020 and throughout the whole year. Follow @UK_SIC on Twitter and visit www.saferinternetday.org to find out more about the global campaign. https://www.saferinternet.org.uk/safer-internet-day/2020
This event has passed.